The response to plastic needs to be drastic!
Imagine it's summertime, and you're having a backyard barbeque with some friends. You have some beers, a little something sizzling on the grill and maybe some fresh seafood. Sounds enticing, right?
What if you knew that everything you're consuming – beer, salt, and shellfish being the worst offenders – has microplastics in it? A plastic barbeque.
Microplastics get into everything. A new study shows that we all eat about a credit card's worth (five grams) of microplastic every week. This is because plastics don't disappear, but just break down into smaller pieces that get into our food, water, and air.
The problem has increased exponentially in the last two decades: half of the plastic produced between 1950 and 2016 was made after 2000. And less than 10% of that, on average, is recycled.
What's being done about plastics?
The plastics crisis has captured global attention, and action on plastic reduction is being taken in Canada at all levels of government right now.
Recently, the federal government announced that it would ban single-use plastics such as bags, straws, cutlery, plates, and stir sticks by 2021 "where supported by scientific evidence and warranted." The government also stated that it would hold companies responsible for plastic waste. West Coast participated in the consultation leading up to this ban, recommending that plastic waste be added to the list of toxic substances under the Canadian Environmental Protection Act, and Ottawa recently began a scientific evaluation of whether this classification would be an appropriate measure.
A key part of the government's plan is to introduce extended producer responsibility, wherein companies creating plastic products and packaging are responsible for the full life cycle of their products, including recycling the product at end-of-life. However, in focusing solely on reducing plastic waste where scientific evidence "warrants" it, the provision seems to have created a loophole for lobbying from the plastics industry to squeeze through. (I'm picturing an insatiable lobbying Abominable Snowman-type creature made of plastic bags that can only be placated with more plastic. A plastic-eating version of Cookie Monster works too.)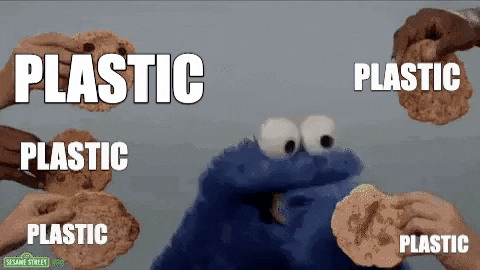 The federal government, provinces, and territories have developed an action plan to harmonize the reduction and recycling of plastic waste, which media reports recently described as lacking detail and written in "very general language." It remains to be seen how these commitments will materialize.
At the provincial level, in many respects, British Columbia is still way ahead of the federal government – though a recent court decision (outlined below) demonstrates the need for speedy provincial law reform.
BC implemented an extended producer liability recycling program in 2014 and has one of the most efficient recycling programs in Canada. There are two key elements of BC's program that have contributed to its success. First, business owners pay for the packaging they create. The entire British Columbian recycling system is funded by the producers. Second, after collection, the recycling is sent to processors for remanufacturing into different materials, which in turn reduces the need for new plastic production. According to Recycle BC's 2018 report, BC had a 78% recycling recovery rate, much higher than the national average of 10%.
While BC's extended producer liability program is much more efficient than other provinces' recycling programs and should serve as a model for the federal government, a shift is needed to reduce production and consumption of plastics in the first place. One obvious step is a provincial plastic bag ban like the one in PEI, which is a model for BC to follow (more on this below).
In addition to provincial actions, many municipalities are enacting further plastic reduction measures at the local level. For example, Vancouver's Single-Use Item Reduction Strategy proposes to ban items such as Styrofoam takeout containers, plastic straws and bags, and disposable cups and utensils in the next few years. Victoria enacted a plastic bag ban last year, but as you will read below, it has been overturned (for now). Tofino and Ucluelet enacted a ban on plastic bags and straws on World Oceans Day this year and are among several municipalities across Canada that have recently implemented other plastic bans recently.
These local actions show that community members and decision-makers are concerned about plastic and are pushing for change. However, this patchwork of different municipal laws in BC will create confusion and might be vulnerable to legal challenges, so a provincial plastic bag ban would be ideal.
What can you do to stop plastic pollution?
The old adage of "reduce, reuse and recycle" is no match for the magnitude of the plastic crisis. In fact, this approach works to protect corporate power by shifting responsibility to individual consumers. This pattern has already been observed in the fight against climate change, and we're seeing it play out in the plastics crisis now too. As with climate, the challenge is to hold corporate entities accountable and work toward systemic change. The federal and provincial governments' focus on extended producer liability begins to reflect this shift.
There are many things that concerned individuals can do to encourage systemic change and help reduce plastic waste. You can write to your local governments asking for plastic product bans. You can also weigh in on two provincial plastic reduction initiatives, outlined below. Finally, you can write to your MP and push for change at the national level.
1. Take action yourself
Regardless of larger-scale efforts to reduce plastic waste, citizens should continue to do all they can to reduce their own plastic consumption. Bring your own shopping bags, bring your own take-out containers, and bring your own coffee mugs. As a consumer, you can choose to avoid products with excessive plastic packaging. These actions help, no matter how small they may seem, and they illustrate a larger societal shift away from plastics. However, plastic reduction also requires systemic change.
2. Take action with your local government
Concerned residents should let local governments know how much they care about this issue. Write to your mayor and councillors and request action. Ideally, the BC government will enact a province-wide ban on plastic bags and other unnecessary single-use plastic items. Until then, local governments can and should do a lot more.
For example, Vancouver's Single-Use Item Reduction Strategy (which you can weigh in on here) outlines initiatives to reduce plastic waste in other parts of the world. If you live in Vancouver, you can support the City's move and urge it to adopt innovative actions like these:
In Portland and San Francisco, the company "GO Box" offers reusable take-out containers that are shared by several restaurants.
 In New York City, the local health code allows customers to bring their own reusable containers to certain approved restaurants that have the capacity to prevent cross-contamination.
In South Korea, take-out food is delivered in reusable containers. Residents put the containers outside their door to be collected later by the delivery driver.
If your municipality is not currently taking action on plastic reduction, urge your local decision-makers to enact a bylaw banning plastic products. Surfrider, a non-profit organization that works to protect the world's marine environment, has created a toolkit for citizens who want to reduce plastic waste in their communities, including high-level instructions on how to get a bylaw passed.
3. Take action with the Province of BC
There are currently two excellent opportunities to weigh in on the plastic pollution scourge in BC.
First, BC is taking action on abandoned vessels, marine debris, and marine-sourced plastics. This summer, MLA Sheila Malcolmson will be hearing from community groups, Indigenous nations, and local governments about how to reduce the debris clogging our shores and best respond to this multi-layered issue.
You can participate in this process by emailing MarineSpecialAdvisor@gov.bc.ca with your thoughts.
For example, you can recommend that the provincial government enact a province-wide plastic bag ban. Emphasize that PEI, another ocean province, has already done the same. Encourage the BC government to ban other wasteful items that commonly show up along our shores, such as plastic straws, cutlery, and plastic-lined coffee cups and lids. You can also ask for regulation of ghost fishing nets and other marine-sourced debris.
Second, BC residents need to demand a province-wide plastic bag ban, as a recent BC Court of Appeal (BCCA) decision reveals. Last year, the City of Victoria's plastic bag bylaw was challenged in court by the Canadian Plastic Bag Association (CPBA), an organization that represents manufacturers and distributors of plastic bags (yes, it's a thing – again, the plastic monster comes to mind).
[UPDATE: On July 25, the BC government launched a public consultation to gather input on proposed actions to reduce plastic waste. British Columbians are encouraged to share their opinions in an online survey and read the Province's consultation paper at www.cleanbc.ca/plastics]
The CPBA argued that the bylaw was concerned with "environmental matters" and therefore required the province's approval, which it did not seek. The BC Supreme Court upheld the ban, stating that regulating businesses' distribution of plastic bags to consumers was within the City's power to regulate business, and therefore did not need provincial approval.
However, the CPBA appealed this decision and won – a disappointing outcome in this era of escalating plastic pollution. The bylaw's objective was indeed, as the Court of Appeal held, one that "most reasonable people would endorse." As mentioned, the lower court found the bylaw was concerned with regulating business, and the City had the power to enact it on that basis. But the BCCA disagreed, and found that the 'pith and substance' of the bylaw was environmental protection, which requires provincial permission.
We have to ask: if this bylaw isn't about regulating business, then why is the only group challenging it a business association? It was not the government of BC that objected to the bylaw, but the plastic bag industry – a fact that was largely unaddressed in the Court's decision. The BCCA noted that a court should be "particularly cautious" in invalidating a bylaw on the basis that it infringes on another government's jurisdiction when that government is not the one bringing the challenge, but proceeded to invalidate the bylaw anyway.
Given the current provincial government's focus on environmental issues and the fact that the BC Attorney General chose not to intervene in this case, we can hope Victoria will have no problem obtaining permission from the province to promptly re-enact this bag ban.
Notably absent from the BCCA decision was any mention of the chilling effect of litigation, and the public interest engaged in this plastic bag ban. A US expert on plastic bag laws states that "the market for plastic bags is defended with disproportionate vigor by a number of industry groups and manufacturers. Often spending more than $1 million on campaigns against individual bills, plastics industry groups employ two primary tactics: public relations campaigns opposing the adoption of bag ordinances and lawsuits against cities that adopt such ordinances."
There are many examples of industry-funded plastic bag ban litigation: here is a list of some lawsuits involving plastic bag laws in the US. In Canada, the Canadian Plastic Bag Association first entered the scene in 2012 when it brought a lawsuit against the City of Toronto for enacting a bag ban. As a result, the Toronto City Council voted to drop their plastic bag ban.
The BCCA decision is yet another sign that it's time for provincial law reform on this issue. Write to your MLA to tell them it's time for the BC government to enact a plastic bag ban like PEI, or at the very least, change the Community Charter to exempt local governments from requiring permission from the province for a plastic ban bylaw.
You can also write to your federal Member of Parliament to ask that they implement a plastic reduction strategy sooner and more extensively.
A global shift
Plastic pollution is getting more attention than ever before. Countries are enacting laws, communities are creating bans, and people are participating in cleanups and cutting down on personal plastic consumption. There is a global awareness of the plastic problem.
When it comes to plastics, it appears that it is people shaping the law instead of the law shaping society's behaviour. In some ways, the law on plastics is behind what society expects. Just as people have pushed for gender equality, voting rights, and the chance to be heard by governments about projects on their lands, people are pushing for changes that are forcing governments to enact legal changes that will have tangible impacts on how we treat our environment.
Enacting legal change that holds plastic producers accountable is the first step. Governments also need to take stronger action to protect human health, wildlife, and the environment from the risks posed by plastic pollution. From there, we could push for something even more revolutionary: what would happen with plastic waste if the environment was given legal personhood?
Progress is being made, but for now, the facts on plastic are hard to stomach.
Photo Credits:
Top image: Plastic bag (Alessandra Giansante), 
Bottom image: Plastic monster art installation, Greenpeace (Gustave Deghilage)